Those who have been following our Sunday Social Travel Talk know that I love reading. I've been reading ever since I was a kid and never really stopped. There were times I read tons and there were times I almost didn't read. But there was never a time there was not a book on my nightstand or in my backpack.
In our house, one whole wall is filled with books only, or at least, almost just books. There's a couple hundred of them in our bookcases and I'd say I have read two thirds of them. They also include all our guidebooks and atlases for example. On the attic we have another couple of shelves filled up with books because I have too many. And yet I still keep on buying new ones. Ones that are recommended to me by other readers, travelers or magazines.
As a kid, reading was a way of taking me to new places. To places I could only dream of going to. Now that I am actually able to travel to those places, I still spend many hours of my free time reading. Books still inspire me to travel and to explore the world. So I thought it would be a nice idea to share my favorite reads, those that have inspired me to travel.  Here's the first bunch, in completely random order:
1. Backpack – Emily Barr
During a certain phase in my twenties I was really into reading chicklit-kind-of-books (I know…) and Emily Barr's books were advised to me by a friend. She writes novels that are a little chicklit, a little suspense and are always set somewhere foreign, whether that's Asia, Australia, Cuba, Venice, France … The first Emily Barr novel I read was Backpack and even though the story isn't brilliant, it encouraged me to keep on dreaming about travel. In fact, I went to Asia myself shortly after reading this book. My favorite Emily Barr book is The Sisterhood (which takes places in France), very suspenseful, I think I finished that in 24 hours.
2. The Road to McCarthy – Pete McCarthy
Such a funky novel  about my favorite tiny town in Alaska: McCarthy. Pete McCarthy travels all around the world in search of the real McCarthy and visits Morocco, New York, Tasmania and Montserrat, just to name a few. Each chapter sets in a different place and his journey takes you all across the world. Eventually he ends up in the town of McCarthy, Alaska, where I was handed this book personally by one of the people that appeared in this book, Neil at McCarthy Lodge. If you ever make it to Alaska, make sure to visit. Go and see the old Kennicott Mine and make sure to step onto the Root Glacier. Visit the local bar at night and take a flightseeing above the glaciers. You won't be disappointed!

3. Wild – Cheryl Strayed
One of my favorite all time books! A female young adult embarks on a life changing journey along the Pacific Crest Trail. She walks from California to Washington and not only encounters wildlife and other hikers but also herself and her past. While reading this book (on the plane home from London last year) it felt so good to read about someone who has the same love/hate relationship with walking as I have. I love walking but not when my feet are blistered or when my backpack is too heavy and my shoulders are nearly giving in. This story encouraged me even more to put Oregon higher up on my list of places I want to see rather sooner than later. A must read for everyone! (Curious? I wrote an entire blog about this book last year). 
4. Death on the Nile – Agatha Christie
As a teenager I went to the local library every week and usually came home with a pile of Agatha Christie books. She's the queen of the "who-dunnit" and I can't think of any other mystery writer that does it better than her. One of her most epic novels for me is Death on the Nile. The setting in Egypt is just perfect, the rock coming down from one of the pyramids and the boat continuing its journey on the River Nile makes the story even more intriguing. I've not been to Egypt yet but each time I read this book, I realize I have to go there once. If only to see the pyramids…
5. Into Thin Air – John Krakauer
A great read about an adventurer who attempts to climb the world's highest: Mount Everest. We all know Jon Krakauer from his epic book Into the Wild and this one is nearly as good. While reading, shivers went down my spine and each time he was telling about the scenery around the Everest area I couldn't help googling it on my phone to see what he was talking about. I probably will never make it to the top of the Everest, however my aim is to make it the Everest Base Camp. One day…
Since 2007 I've been keeping lists of the books I read in a year because otherwise I can't seem to keep track of what I've read. The year with the most read books was 2012 (94) and the worst was 2013 (47) but what I noticed most is that I could read much more books that involve travel, any kind of way. So, that means I should read more travel novels. And involve travel even more in my life? Oh no, wait, in our 25 facts I just listed that I really enjoy not reading about travel every now and then. But still, hit me with your favorite travel books!
Those who like to read too, if you want we can connect on Goodreads, which is a great site to keep tracks of books you have read and still have/want to read. You can find me here.
Next time, we'll tell you about our favorite Icelandic books! But ehm, that may be a while, as I still need to start Halldór Laxness' "Independant People". I bought it at Keflavik (Reykjavik) airport in 2011 but it's among that two thirds that still needs to be read…
Want to learn more about our favorites? We also shared the movies that made us want to travel!
This post is a part of the Sunday Traveler series. One of the hosts, Christa, wrote about Norway for the Sunday Traveler party. Read her awesome post here. I wouldn't mind spending my next Sunday there …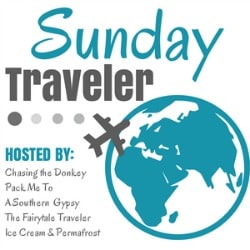 See you next Sunday!