Confessions of a travel blogger
Hello and welcome to we12travel! For those of you who are returning visitors, by now you should know that Sunday means social travel talk. Yay! So on this hot and humid day (at least, here in The Netherlands), take a moment to sit down, relax, pour yourself a drink and read today's story…
It may or may not be a surprise, but I enjoy talking about myself (I know, it's a flaw). And I enjoy telling everyone else about our journeys, that's why I became a travel blogger in the first place. As Martijn is about to depart for Iceland, I will be home alone for quite a while. This will leave me with plenty of time to muse about the past year. The year in which we12travel went from a "blog-for-family-and-friends" to a dedicated outdoor-adventure-nature website. I'll have time to re-live the highlights and the lowlights. And time to silence my mind that is always thinking of articles to write and ways to enthuse others to travel. After one year of serious blogging, I will tell you about the hard work, the crying, the sleepless nights and the rewards for putting hours and hours in a website that doesn't make any money. But also about true passion, willpower and dreams. Welcome to confessions of a travel blogger.
1. Work hard – play hard
I could probably write pages about how hard a travel blogger needs to work to become succesful. Most people only see the pictures of me on the beach or in the Alps, sipping another cocktail or a glass of wine. What they don't see is the hours I put into the blog. On average it varies from 10 to 30 hours a week. Mind you, that's in addition to my 36 hour working week with a tour operator, where I sit on my bum behind a computer all day. While others are still asleep, I wake up at 06.15 (and snooze once or twice) and make sure I'm behind my laptop at 07.00 am. This leaves me with one hour to work on we12travel before heading out to work at 08.00 am. Usually I do social media in the mornings and also I post new blogs then. I could easily do with an extra hour of sleep each night but then I won't get all the work done. Or I'd have to do it at night, but then I usually have other plans (such as going to the gym and meeting friends or family). It's a hard decision to dissapoint them when I am out of the country again, so I try to see them on a regular basis.
2. I have to be online – all the time
Ones of the last lines of number 1 said it: "have to do it". When you have a blog, you have to work on it. If you don't, people will forget about you and there are plenty of newbie bloggers ready to take over your hard-worked for position. No day goes by that I don't go online. To check social media, to see visitor numbers and to check email. Being active and around all the time makes you easier to find and readers will start to remember you and your blog. Traveling on board a ship in Patagonia without any means of modern communication last March was pure bliss! (OK and when we disembarked and checked into our hotel, the first thing I did was switching on my iPhone and see hundreds of messages coming in, which kept me busy for hours after).
3. I'm all over the internet now
People know about my life and whereabouts. My face is everywhere and I don't have control of who is using my it. As long as you don't have a problem with that, you should be fine. However it still feels uncomfortable knowing that (for example) my customers at work or the doctor who does my pap smear can find out all kinds of things about me. Luckily I'm easily able to put this aside. There's plenty of things I choose not to share with the public. So if I don't reply to your friend request on Facebook, please don't feel offended. Some things just have to stay for me and those I care about…
4. Waiting for the day to come…
One day there will be a day that you will get known in the travel bloggers world. It may be because of joining Facebook groups for travel bloggers, it may be because you are being asked for collaboration or it may be because you wrote a brilliant article that made your number of visitors sky rocket. In my case, this happened at the launch of the Travel Writers Manifest. The new version of we12travel was online for about 2 months only and by the end of the night, I went home with a press trip to Curaçao in my pocket. You can read the full story here. From that moment on, I found my place in the (Dutch) travel bloggers scene and made many useful contacts that have helped me to the point where I am now.
5. Networking is my newest hobby!
Until about 9 months ago shivers rolled down my spine at the sound of the word "networking".  I had only encountered this in my professional life and wasn't very good at it. Small talk and handing over business cards with a smile was just not what I felt comfortable with. However I found out that when the talk is about travel, I love it. My spontaneous side kicks in and before I know it, I'm engaged in a conversation with a likeminded person, resulting in the natural exchange of business cards and the (sometimes empty) promise to keep in touch. Nowadays, I try to go to as many networking events as possible (keep in mind the 36 hour office job…). Sometimes it proves to be fruitful and sometimes not. Making yourself known is incredibly important and without a network, you will find the hard way up to success even harder.
6. I'd rather travel without my iPhone than without mascara
There's only a handful of people who are allowed to see me naked. Naked without make up that is. I don't care about being bare naked in a sauna but when it comes to make up I feel horrible. Thing is, I'm a natural blonde and my eyelashes and eyebrows are blonde, too. Ever since I dyed my hair darker I applied make up to both of them to make sure I wouldn't hear people say things such as: "what's wrong with you, you look so pale" or " damn, you look bad without make up" (yes! that is truly something I've been told) and "are you sick, you look like somebody else?" So by now, 10 years later, I wear make up every day. Just a small bit and most people won't even notice, but I'm not leaving the door (or my tent) without it. The adventurous girl who puts on make up … what a laugh!
Point number 6 ends today's Sunday Social Travel Talk. However, I can still think of at least 57 more confessions in the life of a travel blogger. And to satisfy your curiosity, I will share them with you over the upcoming period of time.  I know long reads are the way to go right now but I think 1.392 words is long enough for today. So just leave me for now, but do subscribe to not miss any more confessions. Enjoy the drink you just poured and enjoy your Sunday!
oh and PS, yes, I put the words "confessions of a travel blogger in front of my feet on purpose on the cover picture. I would have rather put them on my bum but that would look a bit strange I guess, so my feet were the best alternative. Let's just say they are not my most striking feature …
(note: for this post I've used the I-form as they are based on my personal experiences only. However this does not mean that Martijn does not work hard. He works his butt off to keep this site up and running, has to bear with me mocking about visitor numbers and is told by me to keep track of the craziness that's called social media when I'm on the way. So he definitely deserves a big round of applause here!)
Is there anything you'd like to hear the truth about? Go here to read the previous posts in the Sunday social travel talk series or look in the sidebar on the left for other popular posts.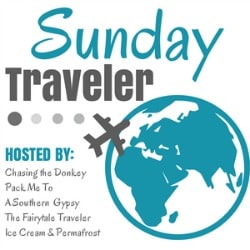 This post is a part of the Sunday Traveler series. One of the hosts, Christa, recently wrote a great article about How Travel Bloggers Get on Press Trips.
Psst: sharing is caring!